1
"Sky Blue Media is one of the prominent media companies with a long term outlook in the Entertainment and Media Domain. With this positive and robust outlook, the company has extensive growth and investment plans. The company strive hard to grow organically as well as inorganically. The company makes the most of the latest and ever-evolving technology in bringing about an improvement in its services. We are pioneers in this sector and have carved a niche for ourselves by enhancing the quality of the work and ensuring high-end content relevancy."


Advertising Business of SkyBlue.

i) Physical OOH – Physical Advertising is one of our key services. We excel in providing attention grabbing static pedestrian bridges billboards at some of the prime locations within Kuala Lumpur.

ii) Digital OOH – With the advent of digital technology, we at SkyBlue Media have also forayed into the world of digital out-of-home media. Our team of expert media professionals are engaged in the development, refinement and implementation of high-end Digital OOH solutions in Malaysia.

iii) Other Forms of Advertising – We enjoy amazing media presence across various genres of media and offer comprehensive coverage and result oriented advertising communication to a brand.

Broadcasting business of SkyBlue
i. Content for Telekom Malaysia - SkyBlue Media is an exclusive partner of Telekom Malaysia. TV Content from India and other Sub-continental nations reach to about 250,000 families in Malaysia. The company is also an authorized dealer of Sony, Disney and other well-known media giants.

ii. Cable TV Operation in Pondicherry - SkyBlue Media, through a partnership with a TV content company, has set up a Cable TV Operation in Pondicherry, India, providing access to nearly 300 channels using a set-top box to about 100,000 homes in the region.

iii. HeroTalkies - SkyBlue Media has also entered into an Exclusive Partnership of HeroTalkies. It is one of the prominent OTT Player based in Singapore, known to offer Tamil Movie Content to viewers across the world. Its' extensive movie library has more than 700 movies.

Innovation & Digital Media.
i. Synchronous LED - SkyBlue is a front-runner company in South-East Asia when it comes to the implementation of Synchronous LED concept. I helps smooth delivery of a brand to the prospective customers on the road.

ii. Intelligent Play System - Skyblue Media also work with a high-end sensor based technology, wherein sensors on the LED Panels work by gathering relevant data and depending on the data accumulated, relevant advertisements are provided on the LED panels.

iii. In-store brand promotion - Skyblue Media is striving hard to develop a technology that will help enable a store to identify the needs of their customer as soon as they enter into the store. This knowledge and information help them to push personalised offers, increase cart value and improve the overall in-store experience of the customer. Also referred to as 'Cookies for the offline World,' here, an eclectic blend of data and intelligence are used to give a better experience to the customers.

iv) Smart City Initiative with Digital Media - Skyblue Media is all set to play a vital role in the Smart City Initiative. With the company owing LED panels and sensors, their role in the Smart City Program is expected to be more than promising.

Management Team, Awards and Accolades.
ASEAN Industry Excellence Award on Digital Media.

ASEAN Expansion.
Skyblue Media is poised to spread their wings and venture deep into the South East Asian region. With the ASEAN economy ready to embrace more players in the market, there is a great opportunity for the already established or nouveau brands to have a PAN-ASEAN presence. Skyblue Media is ready to make the most of these opportunities and expand its services to these brands across the region.




Sky Blue Media Sdn. Bhd.
2A-23A-1, Plaza Sentral Phase 2,
Jalan Stesen Sentral 5, Kuala Lumpur Sentral,
50470, Kuala Lumpur, Malaysia.

Date Post: 02-Nov-2016
Pages:
advertising business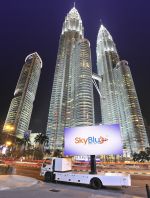 Skyblue Media Sdn Bhd
Tel: +60322601655