1
Dear Sir/Madam, (HS 7323)
We would like to offer: cookwares. Made from cast aluminum and carbon steel. All of interior with non-stick coating while exterior using heat-resistant silicone coating. Available in various type & size: fry pan, sauce pan, dutch oven, wok, grill pan, stewpot, with or without glass lid. Each item packed in carton box. Cookwares from stainless steel material available too. For any interested parties, pls kindly contact for further details. Thank you.

Jl. Raden Wijaya #30, Mojokerto 61321, East Java, Indonesia.

Date Post: 01-Feb-2013
Pages:
cookwares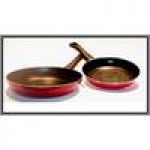 Mr. Ferry Handjojo/cookwares/cv. Starindo Gemilang
Tel: 62-81-23004657