1
D English Link & Consultancy Services (DEL) is an English training and learning centre located in Puchong, Malaysia. In DEL, we provide English classes services to corporate clients who are seeking job opportunities, activities or programmes for staff development. Our English centre also caters for adult learners who wish to enhance their command of the English Language for their personal and professional growth for better career advancement opportunities.

At D EnglishLink Puchong (Malaysia), we pride ourselves on providing excellent service with commitments to our training and learning programmes. Our English class programmes are designed to cater to the needs of the business environment and are constantly reviewed to meet current workplace needs and industrial relevance. Trainings are conducted using the Communicative Language Teaching Approach to achieving meaningful English learning experiences and optimizing understanding. Group discussions, role-playing activities and problem-solving activities are carried out to maximize participation in all training. Besides improving grammar & vocabulary for corporate training, DEL English Courses also prepares working adults in intensive courses such as Business English and Report writing.

Learning English is no longer an impossible task now with DEL Malaysia. At D EnglishLink Puchong Malaysia, you can take English Lessons from Intensive Training, Business English, Oral Communication & even International English Language Testing System (IELTS). Our Intensive English classes can fast-track working adults to speak English fluently with proper grammar & vocabulary.

With a dedicated team of experienced trainers, DEL Malaysia is committed to ensuring that your time spent with us will be a rewarding and enriching experience.

Want to build your English skills no matter for work or IELTS? D EnglishLink Puchong Malaysia Intensive English Program is perfect for you! Contact us now to know more!

No. 3-9, 3rd Floor, Jalan Puteri 4/8, Bandar Puteri, 47100 Puchong, Selangor

Date Post: 14-Dec-2017
Pages:
education tutoring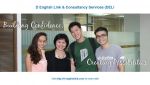 English Class For Working Adults Beginners In Puch
Tel: 0166908828