1
Kekaboo is a wholesaler of a variety of gift boxes made of natural fibres and wood come in a multitude of designs, colors and patterns, many of which are exclusive to Kekaboo.

Our gift boxes make perfect gift baskets to pack cookies, cakes and other delicacies for Hari Raya, Christmas, Chinese New Year, Deepavali and other special events. Wedding planners choose Kekaboo wooden boxes which are perfect to present wedding gifts (hantaran) for its traditional design and elegant touch. We can customise ideas to suit the event and budget.

We are located at Section 27, Shah Alam. Starting from a small festive hamper supplier, we are now growing into one of the major wholesaler for gift packaging and office and hotel accessories. Our customers are commercial and home based gifts suppliers, corporations and hotels.

We focus on trading crafts sourced from Malaysia and other part of South East Asia. Every product has been made with care, passion and talent by Artisans in villages and remote area of Malaysia and other South East Asia countries.

All kinds of products for gift items, home and office accessories, table top items, baskets, bags, everything 100% handmade. Inspired by nature, we use exotic natural materials such as wood, water hyacinth, bamboo, mendung, pandanus, sea grass, accessories with buckles, hooks, vinyl, steel handles to get the perfect look.

Every product is made unique and special for our customers. Our product including Gift boxes, Color boxes, Cosmetic boxes, Chocolate boxes, Shoe boxes, Shirt boxes, Hari Raya Hamper baskets and boxes, Festive gift boxes, Home / Office / Hotel Accessories and Bathroom Accessories.

Date Post: 02-Dec-2011
Pages:
gift boxes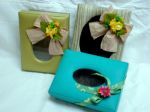 Gift Boxes, Crafts & Deco, And Festive Hamper Supp
Tel: +603-51927734