1
Dear Sir/Madam, (HS 6302)
We would like to offer: Towel and Bathrobes. Made from 100% terry cotton in various fabric's weight: 360, 400, 450 and 500 gr/sqm. Design available in: plain, stripe, check, jacquard and embroidered. Accept buyer's design. Size (in cm) : from 30x60, 50x125 till 75x200 or base on buyer's advise. Type: hand towel, bath towel, beach towel, etc.. Also available bathrobes in various models and designs. Packaging: individually wrap with plastic bag and a dozen of plastic bag in carton box. Manufactured under ISO 9001 and Oekotex 100 certified company. For any interested parties, pls kindly contact for further details. Thank you.

Jl. Raden Wijaya #30, Mojokerto 61321, East Java, Indonesia.

Date Post: 18-Jun-2012
Pages:
indonesia apparel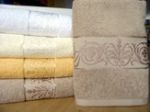 Ferry Handjojo/towel/towel And Bathrobes/cv. Stari
Tel: 62-81-23004657