1
Dear Sir/Madam, (HS 6116)
We would like to offer: knitted working gloves. Made from: cotton, poly/cotton, nylon, aramid, etc., depends on its purpose. Most of our working gloves made from recycled cotton yarn. Finishing: plain, colored, rubber coating, rubber dot, etc.. Especially working gloves made of aramid fiber (metha type) is intended for high temperature working conditions, reflecting its excellent fire retardancy. Packed in carton box or loose packing. Produced under ISO 9001 certified manufacturer. For any interested parties, pls kindly contact for further details. Thank you.

Jl. Raden Wijaya #30, Mojokerto 61321, East Java, Indonesia.

Date Post: 03-Aug-2012
Pages:
indonesia gloves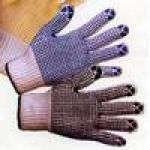 Ferry Handjojo/gloves/working Gloves/cv. Starindo
Tel: 62-81-23004657