1
Dear Sir/Madam, (HS 4803)
We would like to offer: Tissue Paper. Consist of : toilet paper, facial tissue, paper towels, and machine gloss. Material: 100% virgin pulp or mix with recycled pulp. Intended for converting industry in jumbo roll or retail market. One or two-plies. Grammature: 13-46 gsm. Maximum reel width of jumbo roll is 3.48 mtr & dia. 115 cm. There are a paper core inside jumbo roll, dia. 3 inch. Jumbo roll is wrap with kraft paper and plastic sheet. Retail packing available in roll or sheet. Accept buyer's brand, terms and conditions apply. Produced under ISO 9001 certified manufacturer. For any interested parties, pls kindly contact for further details. Thank you.

Jl. Raden Wijaya #30, Mojokerto 61321, East Java, Indonesia.

Date Post: 25-Aug-2012
Pages:
indonesia paper products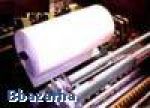 Ferry Handjojo/tissue Paper/cv. Starindo Gemilang
Tel: 62-81-23004657