1
Dear Sir/Madam, (HS 8712)
We would like to offer: bicycle. Frame is made from aluminum, steel or carbon. Wheel dia., from 12", 14", 16", 18", 20", 24" & 26" with various type/model, like : bmx, mountain bike, city bike, folding bike, etc.. Or it could be divided based on customer's age : Kids, Teenager, Ladies & Gents. Bike is delivered in knock down and some parts put in carton box. Beside the bike itself, we also selling it's accessories, like : stands, side support & wheels, luggage carrier, bells, locks, air pumps & parts, light & horn, mirror, spanner, tool kit, dynamo set, bags, basket, bottle/bottle cage & cable guide. This accessories could attached in the bike base on buyer's preferences. Produced under ISO 9001 certified manufacturer. For any interested parties, pls kindly contact for further details. Thank you.

Jl. Raden Wijaya #30, Mojokerto 61321, East Java, Indonesia.

Date Post: 08-Jul-2012
Pages:
indonesia transportation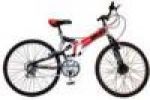 Ferry Handjojo/bicycle/bicycle/cv. Starindo Gemila
Tel: 62-81-23004657