1
Dear Sir/Madam, (HS 7113)
We would like to offer: gold jewelry. The caratage of our gold jewelry is in the range of 10K to 18K. We are making gold jewelry without any additional precious or semi-precious stone attached. Consist of piece and set. Piece jewelry can be found in bracelet, necklace, ring, earring, bangle, pendant, etc.. Set jewelry is a combination of few piece jewelry in one theme. Set jewelry theme include : ethnic, artistic, luxurious and elegant. For any interested parties, pls kindly contact for further details. Thank you.

Jl. Raden Wijaya #30, Mojokerto 61321, East Java, Indonesia.

Date Post: 18-May-2012
Pages:
jewelry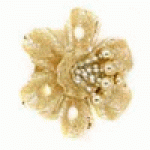 Ferry Handjojo/jewelry/gold Jewelry/ Cv. Starindo
Tel: 62-81-23004657